Duneshore's mission is to provide fun, safe, quality boating for the rental customer. Knowledgeable, experienced, personalized service allows Duneshore's customers to feel comfortable and safe on the water.
Duneshore Boating is located on beautiful White Lake, in the communities of Whitehall and Montague, and close to the beaches of Lake Michigan.
Duneshore's owners, Jon and Sally Whitbeck, began their cruising life on a 1939 Tahiti Ketch, which they sailed from Lake Erie to the Bahamas, and then up to Annapolis. After several years in Annapolis, they bought a Tayana 37, and lived aboard for two years, while preparing for a circumnavigation. From 1993 to 1998, they sailed around the world, covering approximately 33,000 miles, and visiting over 30 countries. Their extensive cruising experience gives them a broad base of knowledge to provide for their customers' needs.
Contact us today about renting a boat on White Lake!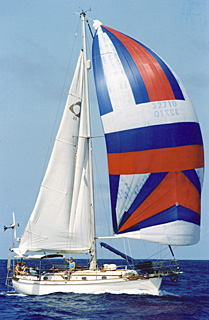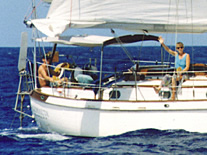 Jon and Sally sailing Argonauta
along the coast of Mozambique.